Studying is the most important aspect of life. Every human being must at least complete their 12th followed by graduation.
Though gaining of knowledge and learning never ends throughout the life but graduation is a must. It makes a person eligible for many other options like job or further studies.
It's never too late to start.Any person of any age or gender can start their studies anytime in their life. Most of the students opt for the undergraduate degrees after completion of their 12th.
Many undergraduate degrees help students in getting placed for good packages. Whereas there are many who would start preparing for government jobs or would settle working for private firms at a low salary.
Apart from jobs students also opt for the masters in their respective streams like engineering, sciences, management, etc which we called postgraduate degrees. The reason for going to post-graduation may be different for different person. But each one would get some gain after opting for these.
There are lots of master degrees provided, I am going to discuss the ones high in demand among the students. These include the MBA (Master of Business Administration), MIM (Master in Management), M.Tech (Master of Technology) and MS/M.Sc. (Master of Science). These are the common postgraduate courses which has most common duration of 2 years. In some countries like Egypt, MS courses may go upto 7 years.
DIFFERENCES IN COURSES
MBA Vs MIM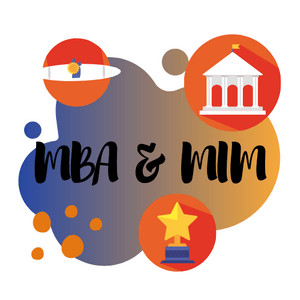 MIM or Master in Management is a new course in comparison to MBA or Master of Business Administration. Both the courses have a duration of 2 years.
MIM may be for less duration but MBA is for 2 years. Before pursuing these courses one must have at least an undergraduate degree in any stream. It may be B.Sc. , B.Tech, B.A., B.Com , or BBA.
MIM is a popular course that emerged in the 2000s in western countries, whereas MBA is popular all over the world. They may seem similar but they have differences that needed to be looked at.
MIMs are specialized in a specific business area, such as accounting or marketing whereas MBA provide a wide range of subjects to be studied.
Person willing to develop their career can pursue MBA whereas MIM are generally pursued by newcomers.
MIM graduates generally start their job as fresher whereas MBA graduates plays their role in advanced jobs.
MBA programs are generally expensive than MIM.
MIM is popular in European countries whereas MBA is popular all over the world.
MBA graduates get high packages in comparison to a MIM graduate.
MBA has a worldwide reputation whereas MIM is just a general post graduate degree.
Person willing to pursue MBA can get admission in management or business school after clearing the competitive exams. IIMs are the very first priority among the students in India for pursuing MBA. But the main hurdle comes in the competition among the candidates.
The success percentage for these exams is as low as 1%. There are other colleges and universities too where one can complete their MBA but there they do not get as high packages as in IIMsm
In the same way one can opt for MIM in other countries like USA,UK,Germany,Austria etc.It is also a good choice for the persons willing to just start as a fresher and have an interest in management and accounting related subjects.
POPULAR COURSES
A course like MBA in Finance, Information Technology, International Management, Entrepreneurship etc are popular among the students.
New courses like Digital marketing which are covered under MBA is also becoming popular. Digital Marketing is a booming industry not only in India but across the globe.
With almost all businesses going online in their marketing activities, the demand for digital marketers is increasing at a rapid and is opening doors for plenty of job seekers.

The career scope in the industry is attracting the masses, and this is one of the reasons various professionals are learning the course to enter the industry.
---
M.TECH Vs MS
These two courses are basically for the students who are from engineering or science background.
Unlike the above two courses which can be pursued by any of the graduated person from any stream. These courses are pursued mostly by B.Tech/BE graduates in India.
One who has completed their Masters in science or humanities can also go for MS in foreign countries. But M.Tech is only offered to engineering background students. M.Tech is referred to as MS in foreign countries. These courses are provided by the IITs, BITS, Aligarh University, Jamia etc. In India students mostly go for M.tech. whereas MS is popular in western countries.
Following are some differences between these two:
M.Tech. is for at most 2 years whereas MS can go beyond 2 years also.
None of them is inferior to each other.Both has their value at their places and as per the requirements.One should go for any of them but as per their interest in their particular subjects.
POPULAR COURSES
Popular M.Tech. courses include chemical engineering, biotechnology, mechanical engineering, computer science engineering, and electronics.
M.Tech./MS in data science is one of the new and emerging courses which is in demand nowadays. It is 2 years course covering science and engineering with relevant areas of computers and data science. Diplomas are also provided in these courses. Students pursuing these courses are recruited as data scientists.
Master's in Business Analyst is one of the trending courses around the world. There is a high demand for skilled professionals who can leverage analytics to translate unstructured data into valuable business insights.
After these course students are recruited for the roles of Management analyst, Operation research analyst, marketing analyst etc.
---
PURSUING THESE COURSES ABROAD
Pursuing any of the above courses whether MBA, MIM, M.TECH or MS can be a boon for one's career. All over the world,students give priority to the colleges abroad, to pursue their higher studies.
Most of the world top tech colleges and business schools are in western countries. Most of the emerging courses such as Data science are in high demand and are new in the western world.
If any of the people is completing these courses from the foreign countries are definitely going to get benefits from that. But before taking further steps one should first make sure to get in formation related to the course cost, living cost, language and other required information.
MBA Vs MIM
Pursuing these courses from any of the countries like UK, Canada, Germany, Australia is going to worth. They have the top business schools of the world and every year they produce top entrepreneurs, CEOs and many other heading the top companies all over the world.
COURSE FEE
The fee may range from Rs 23 lakhs to 60 lakhs per year in CANADA, UK, USA and Australia whereas it can be around Rs 23 lakhs to 40 lakhs for the full course in GERMANY. The fee may vary for different MBA programs. For MIM Programs one can get their full course done in around Rs18(starting) to 60 lakhs(maximum).
---
M.TECH Vs MS
ME /M.TECH may be provided by less institutes abroad but MS is very popular in European countries and in the USA or CANADA. They own the top institutes like Oxford and Harvard which has produced great scientists, Nobel prize winners and many more in the field of science and technology.
COURSE FEE
Courses fee in the US and UK may range from 8 lakhs to 50 lakhs per year for most colleges but it may exceed for top colleges. In AUSTRALIA it may range from 8 lakhs to 20 lakhs for most of the institutes.
There is very less tuition fees in Switzerland compared to other countries. There tuition fees is around Rs 80 thousand to Rs 1 lakh per year. In countries like Germany, there is no tuition fees for any of these courses. One has to only pay some fees for other administrative costs.
---
LIVING COST AND LANGUAGE AND OTHER BARRIERS
Living costs in in countries like the US, CANADA and UK can be high in the range of Rs 20 to 40 thousand per month and In countries like SWITZERLAND, UKRAINE and GERMANY, it is around Rs 15 to 20 thousand per month.
In some European countries like Germany, Switzerland, Belgium there may be the courses provided in German, which becomes a barrier for students from the the non-German speaking countries.
Other than these few countries other provide the medium of English in all the courses. So one needs to take some of examinations like IELTS or TOEFL to get eligible for the admission in these colleges.
Apart from all these one can miss the Indian cuisines there in the west. There may be some INDIAN mess but as you all are familiar THERE IS NO COMPARISON of TASTE of HOME. So, one has to compromise with this.
Other thing is the feeling that comes while sitting in India's colleges or schools is not going to come in other country. The interaction between the teachers and the class in our own language is going to be missed in western world.
READ: Best Engineering Courses In Different Countries
But it would be a whole lot new experience for any Indian student going abroad. New skin, different races, exciting places to explore, whole new level of academics. I am always ready to travel and study.
More From The Blog
Look Before You Leave For Abroad Education